Jersey Fitment
The TOUR jersey is available in SLIM, REGULAR and RELAXED fit.  Use the following fitment guide to select your desired fit.
Slim Fit
Slim Fit style provides form fitting performance through a streamlined 'next-to-body' design.
Regular Fit
Standard Fit style provides regular fitting, by balancing aerodynamic performance with comfort functionality.
Relaxed Fit
Relaxed Fit style provides looser fitting in the shoulders, torso, neck and arms.
Women's Sizing Chart
These are your body measurements
Women's Sizing (inches)

Size
Waist
Hips
Bust
Inseam
XS
23-25
33-35
31-33
29
S
25-27
35-37
33-35
29.5
M
27-29
37-39
35-37.5
30
L
29-32
39-42
37.5-40
30.5
XL
32-34
42-44
40-42.5
31
2XL
34-37
44-47
42.5-45
31.5

Women's Sizing (cm)

Size
Waist
Hips
Bust
Inseam
XS
58-64
84-89
79-84
74
S
63-68
89-94
84-89
75
M
69-74
94-99
89-95
76
L
74-81
99-107
95-102
77.5
XL
81-86
107-112
102-108
79
2XL
86-94
112-119
108-114
80
TOUR Jersey Sizing
Compare these measurements to your favourite jersey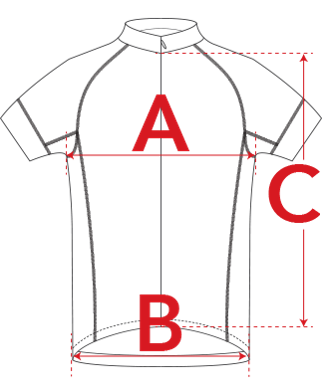 Women's Sizing - Tour Jersey (inches)

Slim
Standard
Relaxed
XS
A
15.7
17.3
18.9
B
12.4
13
13.9
C
17.7
17.7
17.7
S
A
16.5
18.1
19.6
B
13.2
13.7
14.7
C
18.5
18.5
18.5
M
A
17.3
18.8
20.4
B
13.9
14.5
15.5
C
19.3
19.3
19.3
L
A
18.1
19.6
21.2
B
14.7
15.3
16.3
C
20
20
20
XL
A
18.9
20.4
22
B
15.5
16.1
17.1
C
20
20.8
20.8
2XL
A
19.6
21.2
22.8
B
16.3
16.9
17.9
C
21.6
21.6
21.6

Women's Sizing - Tour Jersey (cm)

Slim
Standard
Relaxed
XS
A
38
44
48
B
31.5
33
35.5
C
45
45
45
S
A
42
46
50
B
33.5
35
37.5
C
47
47
47
M
A
44
48
52
B
35.5
37
39.5
C
49
49
49
L
A
46
50
54
B
37.5
39
41.5
C
51
51
51
XL
A
48
52
56
B
39.5
43
43.5
C
53
53
53
2XL
A
50
54
58
B
41.5
43
45.5
C
55
55
55