Join North 48 Bicycles for a Five Day Training Camp from April 20th to April 24th held on the amazing roads around Victoria BC. The training camp will include multi-element rides, recovery rides, amazing food, strength and conditioning sessions, bike-specific yoga and stretching sessions, bike fit sessions and a lot more! We will spend time together on the bike, stretching on a yoga mat, working in the gym, and eating together. We have a number of dinner speakers lined up who will provide some great experience and knowledge to help us become better cyclists. The aim is to put miles in your legs and time in the saddle, put great food in your belly, learn some great strength and stretching moves and fill your mind with some new ideas.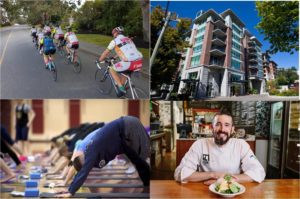 The camp is perfect for those riders who are just getting back onto the road after a long winter of indoor training and will provide a great base from which to launch your spring and early summer riding season, or to ramp up your training ahead of race season.
Training Camp Details
Accommodation – Accommodation will be provided at the Parkside Hotel and Spa, where you will share a 1,000 square foot two bedroom two bathroom suite. The hotel has great fitness facilities, a pool and a full spa.
Meals – All meals will be prepared at the Parkside by chef Cosmo Meens. Cosmo is a well-known Victoria chef and has previously accompanied the Canadian Olympic triathlon team to the Beijing Olympics, so he knows a thing or two about feeding athletes. In addition to preparing meals, Cosmo will help develop a nutritional plan for each participant so you can fuel your rides and your recovery properly.
Rides – We will complete three multi-element training rides, including a hill session, a speed session and an endurance session, each designed to elevate your riding ability. These rides will be led by our NCCP trained coach, Matt Patriquin. Matt coaches the extremely successful Tripleshot Youth team, which counts several former and current BC Provincial and Canadian National junior champions in its ranks. In addition, we will complete up to four recovery rides (these are optional, but highly recommended).
Strength and Conditioning – Strength and conditioning training is crucial to increasing your performance on the bike. Kennedy Kinghorn is a CHEK (Certified Holistic Exercise Kinesiologist) and has helped thousands of athletes from post-rehabilitation to high performance sports conditioning and personal training. Kennedy will complete an individual assessment of each rider's range of motion, core strength and function and then develop an individual base corrective program to address compensations found in the assessments. In addition to assessments, we will spend a two hour session at Studio 4 Athletics so that Kennedy can work through proper form for each exercise.
Yoga and stretching – we will have daily bike specific yoga and post-ride stretching routines led by a certified yoga instructor.
Come prepared to work hard and to share your experiences with fellow riders and have fun!
Places are limited so book your spot now.  Cost is $2,000 per person